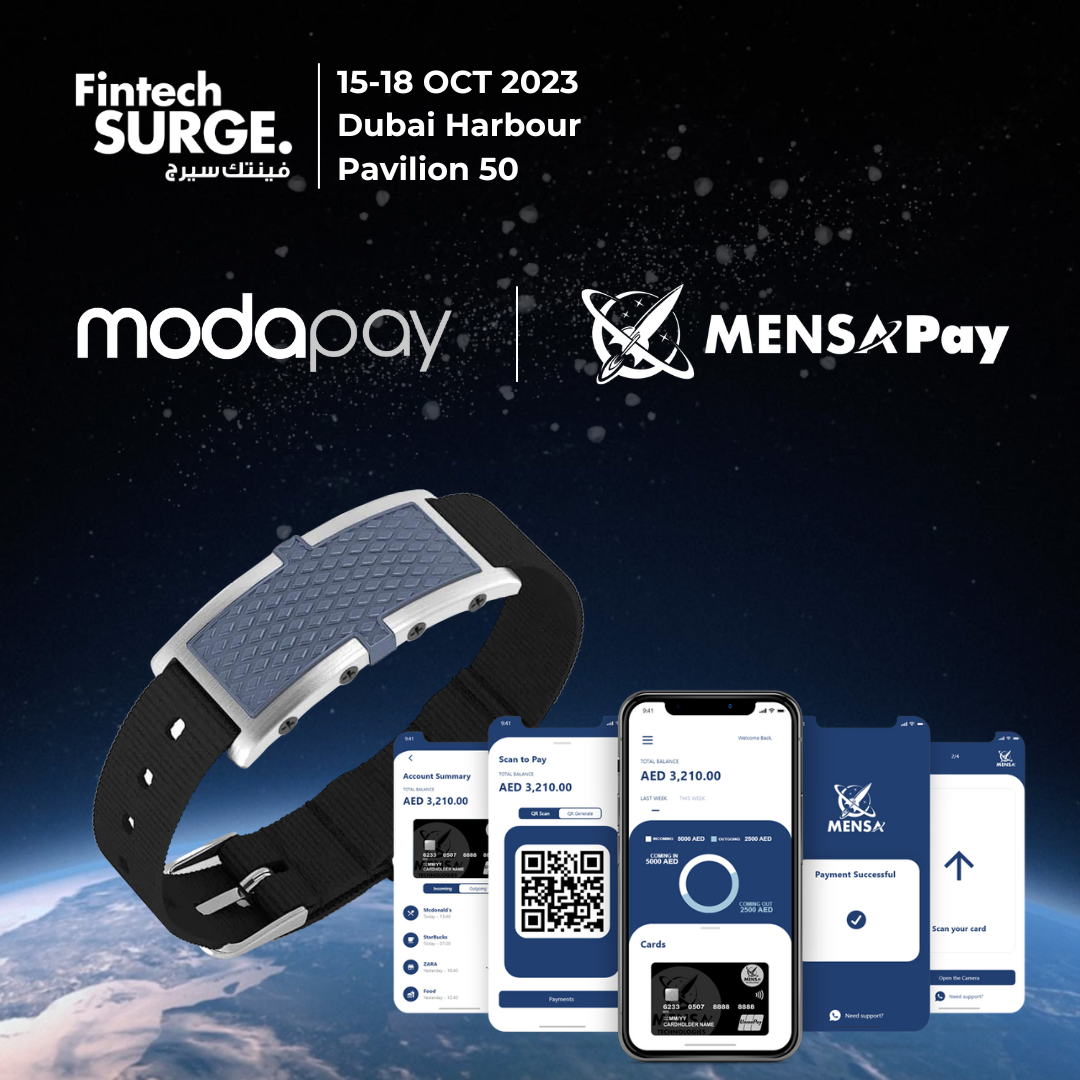 MensaPay and ModaPay Join Forces: Where Fashion Meets Fintech at Fintech Surge 2023 Exhibition
[Dubai, 10 Oct 2023] – In a groundbreaking collaboration, MensaPay, the pioneer in digital wallet and payment solutions, and ModaPay, the cutting-edge fashion technology company, are set to redefine the future of retail at the Fintech Surge 2023 exhibition.
ModaPay: Where Fashion Meets Tech: ModaPay, by BIO-IDZ Technologies, seamlessly merges fashion and tech, offering a stunning range of fashion accessories with contactless payment capabilities. Experience a new era in retail where physical and digital shopping blends harmoniously, ensuring an engaging shopping journey. Live demos, AR-equipped representatives, and Non-Fungible Tokens (NFTs) redefine the way you shop, adding an extra layer of uniqueness to your fashion choices and overall shopping experience.
MensaPay: Effortless Digital Payments: MensaPay, by Mensa Technologies, is your gateway to easy, secure digital payments. With global acceptance and a suite of services including Salary Disbursement, Gift Cards, and Loyalty Redemption, MensaPay simplifies transactions for individuals and businesses. The integration of MensaPay's payroll solutions chips with ModaPay's accessories ushers in a new era of secure and stylish payments, eliminating the need for traditional cards and cash.
A Bold Step into the Future: MensaPay and ModaPay are at the forefront of innovation, offering a bold and exciting vision for the future of retail. Together, they are shaping a world where fashion isn't just an accessory but an integral part of how we transact.
Don't miss the opportunity to experience this groundbreaking collaboration at the Fintech Surge 2023 exhibition. Visit the ModaPay booths to witness the fusion of fashion and fintech in action and see how technology is enhancing the way we shop and pay.
Fintech Surge 2023
Time.               15-18 OCT 2023
Location.         Dubai Harbour Pavilion 50